The different players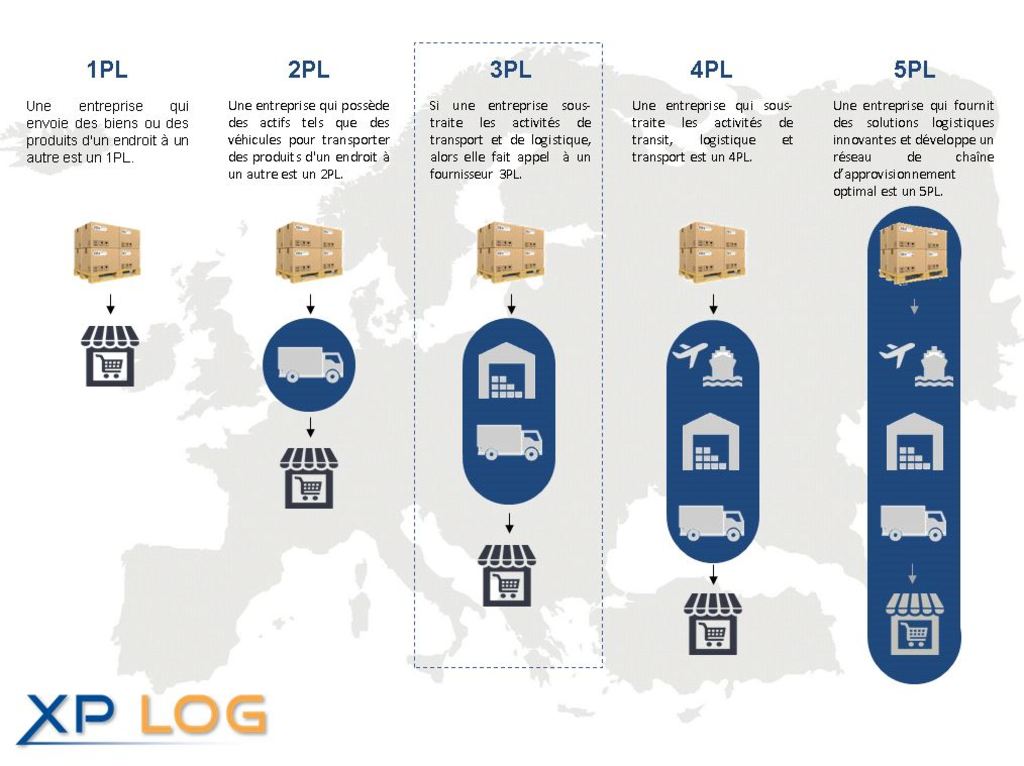 Click on the picture to see it bigger
1PL – « First Party Logistics » : THE CUSTOMER
A company that ships its products from one place to another is a 1PL. For example, a local farmer who transports his vegetables directly to an early trader is a 1PL.
2PL – « Second Party Logistics » : THE FLOWS
A company that has a fleet of vehicles to transport products from one place to another is a 2PL. This same local farmer could hire a 2PL provider to transport his vegetables to the premises of the early trader.
3PL – « Third Party Logistics » : THE PHYSICAL MANAGEMENT OF THE FLOWS
If a company maintains management oversight, but outsources transportation and logistics activities, then it uses a 3PL supplier. This is the case with XP LOG, a 3PL service provider, logistics and transport service provider.
4PL – « Fourth Party Logistics » : ADVICE AND POJECT MANAGEMENT OF THE WHOLE FLOWS
In a 4PL model, a company outsources the management of logistics activities as well as execution throughout the supply chain. The 4PL provider typically offers a broader view and management of the company's supply chain, bringing together transit and logistics and transportation.
5PL – « Fifth Party Logistics »
A 5PL supplier provides innovative logistics solutions. It seeks to gain in productivity and increase their value from the beginning to the end of the supply chain by using developed technologies: EDI, robotics, automation ...
XP LOG 3PL provider – what you need to know
It is important to know that a 3PL provider does not take ownership (or title) of the products shipped. A 3PL provider acts as an intermediary or manager between the other two parties.

XP LOG has its own assets, such as trucks and warehouses, and offers a set of integrated supply chain services, including:


Transport
Storage
Cross-docking
Inventory management
Packaging
Freight forwarding

XP LOG can adapt and customize its services to meet your needs according to your requirements.